Christmas DIY campaign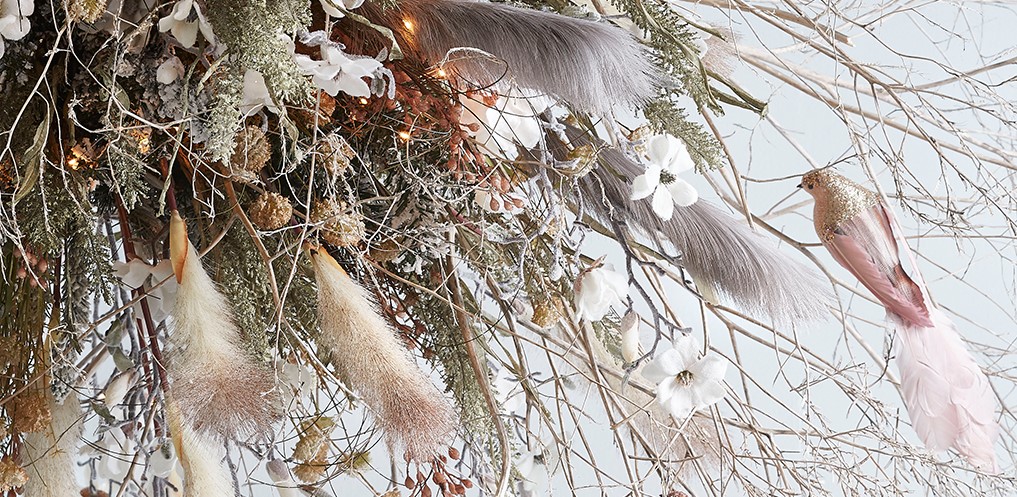 Christmas craft inspiration
Since the pandemic started we have been spending a lot of time at home together as a family. We noticed last summer that people are making their home and its surroundings more enjoyable, for example by tackling the garden. This winter we expect people to be making things cosy indoors, particularly around Christmas. There is an opportunity for you as a florist to tap into this. In this blog we suggest some Christmas craft trends for the holidays, and we challenge you to inspire your customers to get Christmas crafting. And to make it even more fun: the person with the most impressive Christmas craft inspiration can win a makeover of his/her store!
Inspire your customers with Christmas crafting and win a makeover!
We're challenging you to create a Christmas craft inspiration display in your shop. Inspire your customers by creating some examples of Christmas crafting which your customers can also make at home. Include the products that your customer can buy in order to get busy at home. This blog provides some examples as inspiration. We'd love to see your creativity!
How to take part in the competition.
Create a Christmas craft display in your shop that inspires and encourages your customers to get crafting at home with products that can be purchased in your shop.
A requirement is that the majority of the products that you use in the display have been bought through our webshop.
Take a photo of your display and upload it in FlowerFriends. Or: e-mail your photo to marketing@heemskerkflowers.com. Or: post your display on social media and tag Heemskerk Flowers.
You must submit or post your photo by Friday 18 December.
The customer with the most impressive creation will win the makeover. We will announce the winner on social media on Tuesday 22 December.
Trends inspiration
1. Scandinavian Christmas wreath
Traditional wreathes are a bit dull and are considered rather old-fashioned. But you can also do it differently: Scandinavian style. This is a Christmas wreath made using a metal hoop. Nice and minimalist, chic but still warm and welcoming.
The nice thing is that you can very easily make your own wreath with a large hoop (available in our webshop), some festive greenery and string or wire. Try adding a light, or opt for a creative bow.
We have several metal hoops in our range with which you can create different variations. Allow your customer to choose his/her own hoop, and offer a choice of different stems of greenery and other products for making the wreath.
2. Fairytale baubles
A big trend this Christmas: fabulous glass baubles in silver, white or perhaps transparent that hold a green leaf or twig. But wooden ornaments can also make a tree a real eyecatcher, such as ornaments shaped like an autumn leaf, a star or a Christmas tree. If you have enough space in your shop, you can demonstrate the effect by hanging these baubles and ornaments on the tree. Fill a large bowl or an old suitcase, for example, with all sorts of baubles and let your customers pick and mix.
3. Colour with dried flowers
Wrap your Christmas presents with a hint of nature. Surprising and very popular: decorating gifts with dried flowers, pine cones or wood shavings. Display various dried flowers in your shop which the customer can buy as individual stems, e.g. for wrapping Christmas presents. Large dried flowers can also be used to decorate the tree stunningly: insert them between the branches for a surprising and colourful effect, and you can also use them again later in a beautiful bouquet.
4. Christmas table
Use different materials to dress a table in your shop as a Christmas table. In the middle of the table you can focus on festive greenery. This creates a far calmer effect than scattering the greenery around. Use beautiful accessories at different heights, but keep the colours in the same shades. Our Tableware range is endless! Take a look and choose your favourite items to display on the Christmas table.
To make things as easy as possible for your customers you can also put together a Christmas table-dressing box that includes some stems of greenery, napkins, napkin rings, candles, blank name cards and some baubles, for example. That will allow your customer to dress their Christmas table quickly and easily!
If you can work at height, use a tabletop frame on which you can attach all sorts of greenery and hang baubles or fairylights. Anything goes!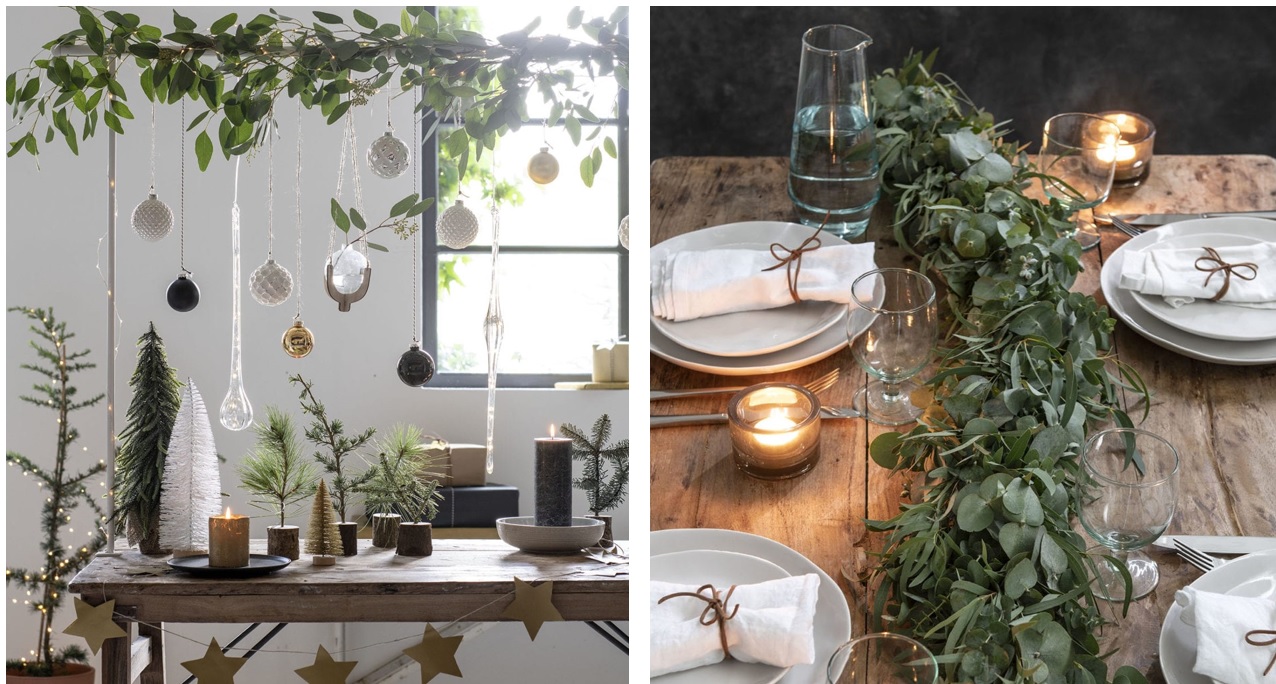 If you'd rather use an impactful colour, you can! The possibilities are endless. For example, blue and gold makes a lovely combination. Blue is the Pantone colour for this year, and gold remains the trend colour.