Meet the grower: Ter Laak Orchids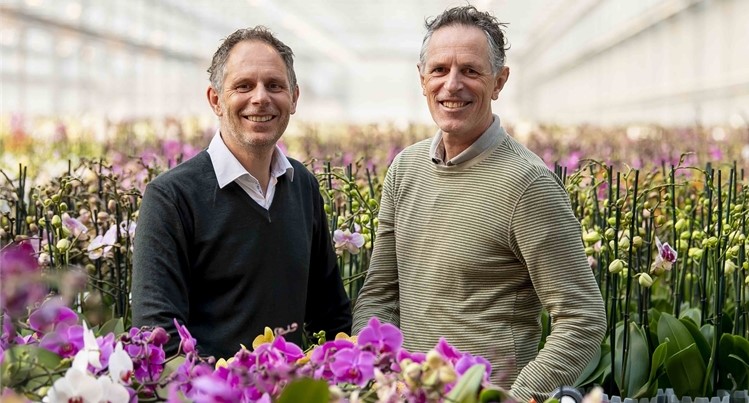 One of our highly rated orchid suppliers is Ter Laak Orchids. This company was founded in 1954 and is currently being run by the brothers Eduard and Richard ter Laak. So it's a real family business! At the two nurseries in Wateringen they grow around 8 million Phalaenopsis plants annually for garden centres, florists and retailers throughout Europe. They are supported by a committed and enthusiastic team of 250 employees. They want to make a positive contribution to a sustainable world and minimise their environmental impact. We have been to visit them and would like to tell you how they operate.
Daylight Greenhouse
In 2018 they constructed a new highly sustainable Daylight Greenhouse (5 hectares) next to the existing nursery. Special lenses in the roof focus sunbeams on a tube containing flowing water. The focused light heats the water in the tubes, which is then stored. They can either use the heat immediately or later to heat the greenhouse, for example at night or in the winter. It is a highly technical and innovative system which gives energy savings of 45 to 50% without detracting from the plant quality. Even better: the diffuse double-glazing in the roof actually improves the plant quality!
Underground water storage
They don't just want to save energy in the nurseries, but water as well. That's why they created an underground water storage in 2017. This allows Ter Laak Orchids to store unlimited excess rainwater in the ground. This rainwater can be pumped up as required later and used to water the plants. It also helps to counteract salination of the soil and prevent local flooding in the event of heavy rainfall.
Alongside the aforementioned projects, Ter Laak Orchids is sustainable in the broadest sense of the term. They make optimum use of their surface area by having a second cultivation layer, use LED lighting and grow as organically as possible. They use recyclable packaging, invest in heat & power plants and have an external screen. It is the strength of the all these elements combined that helps the company to progress along the path of sustainable business.
Range
Ter Laak Orchids' range includes various orchids. Here are a selection:
Decorum
The nursery ships the plants that meet the strictest quality criteria under the Decorum quality brand. Decorum is a select group of 60 growers who offer a wide range of top quality flowers and plants.
Authentic Orchids
Every day the staff at Ter Laak Orchids work together to produce top quality plants. After all, they want you to be able to enjoy the stunning flowers for as long as possible. But their orchids are made by Mother Nature, so they can be a little quirky sometimes. During the growth process they go their own way, and there may therefore be a small cosmetic imperfection here and there: a twist in the stem, a curling leaf or one bud less. But isn't Nature at its most beautiful when it does its own thing? Ter Laak Orchids think that these plants are too good to waste. The nursery stands for quality, it's true, but they also believe that respect for Nature is equally important. It's Nature's perfect imperfections that makes these plants so authentic.
Flying Orchids
Thanks to a special cultivation method this Phalaenopsis hangs in the air upside down.